On 22 January, Donald Trump imposed steep tariffs on imported solar panels (30 per cent) and washing machines (20 per cent), clearly targeting China. These latest moves show he is committed to his campaign promise of tightening trade policy. We believe this will inflict damage on emerging markets - and not just China.
FIG.1 - SINCE TAKING OFFICE, TRUMP HAS ANNOUNCED A NUMBER OF TRADE MEASURES
The simple average import tariff applied across all goods by the US is 3.5% (see Fig.4)



(Source: Pictet Asset Management, South Morning China Post, BBC, CNN, US Department of Commerce, February 2018.)
Is it the usual suspects?
By far the largest US trade deficit in nominal terms is with mainland China (-USD375bn)1. However, the overall scale of China's economy means US exports account for only 3.6 per cent of GDP. As Fig.2 below shows, Mexico for example is far more exposed to an escalation in US import tariffs.
FIG.2 - EMERGING MARKETS' BILATERAL TRADE EXPOSURE TO THE US SHOWS MEXICO IS MOST VULNERABLE
Exports to the United States as a share of GDP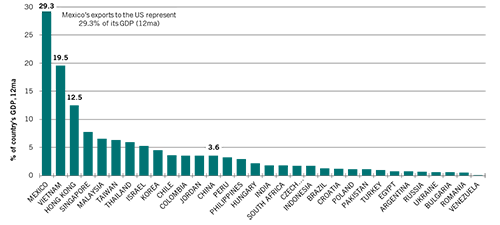 (Source: Pictet Asset Management, CEIC, Datastream, February 2018)#
However, we think we can get better insight by looking at those economies most enmeshed in the global value chain (see Fig.3). This captures all goods going back and forth between nations during their manufacturing process.
FIG.3 - HIGHEST GLOBALISED ECONOMIES TO BE HIT THE MOST BY MORE GLOBAL TARIFFS MEASURES
Global value chains participation rate*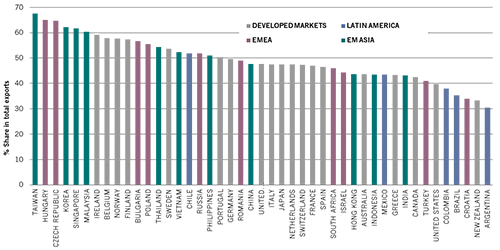 (Source: Pictet Asset Management, CEIC, Datastream, February 2018.
* Foreign value added used in a country's exports (backward participation) + value added supplied to other countries' exports (forward participation))
Using this measure, Taiwan is top with 67 per cent of its exports part of a value chain2. Other Asian countries feature prominently, closely followed by Emerging European markets. China is in the middle, while Latin America would be the least impacted.
How likely is a further escalation in Trump's trade policy?
We think quite likely. Compared with other populist economic policies such as tax or immigration which need to be passed by Congress, Trump has more scope for action when it comes to trade policy. The President has the power to impose tariffs or quotas on imports.
Valid or not, the perception of Trump's voters is that the US has lost its manufacturing sector leadership due to unfair competition from China and other leading trade partners3. It should also be acknowledged, as Fig.4 shows, that  US tariffs on imports under the World Trade Organization are lower than other countries. In other words, further upside is possible.
FIG.4 - THE UNITED STATES HAVE VERY LOW IMPORT TARIFFS RELATIVE TO THE REST OF THE WORLD
Simple average import tariffs applied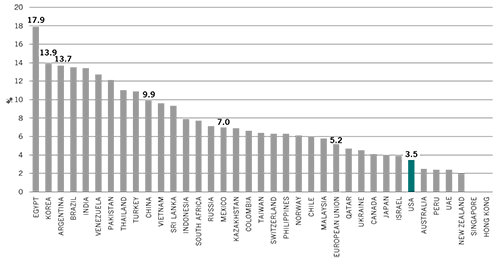 (Source: Pictet Asset Management, CEIC, Datastream, February 2018.)
What scenarios can we expect?
 Trump has four options to modify trade policies.
FIG.5 - TRUMP HAS FOUR OPTIONS, EACH WITH A DIFFERENT IMPACT ON GLOBAL TRADE


(Source: Pictet Asset Management, February 2018.)
Given Trump's preference for bilateral agreements, we believe the most likely scenario is a continuation of the first two options. In this context, emerging markets most at risk would be those whose exports to the US account for the highest proportion of their GDP (Fig. 2), Mexico, Vietnam and Hong Kong in particular.
In the unlikely event that scenarios three and four materialise, this would be more disruptive on a global scale and would hit emerging countries with the highest participation rate in the global value chain (Fig.4). In this case, Taiwan would be most at risk, closely followed by Hungary and the Czech Republic.
The full "Emerging Market Monitor" you finde here.
[1] Source: Pictet Asset Management, CEIC, Datastream; bilateral trade deficit with the US in 2017.
[2] This figure includes both the imports used in Taiwan exports (backward participation) and the Taiwanese exports that are used in other countries' exports (forward participation).
[3] US manufacturing employment share in total employment has been on a structural decline since WWII (source: Pictet Asset Management, Datastream). The US has lost 5 million manufacturing jobs since 1995 (Source: Bureau of Labor Statistics).