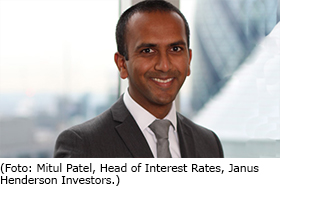 As widely anticipated, the Bank of England's Monetary Policy Committee kept rates on hold today but delivered a hawkish message by stating that rates may have to increase earlier — and to a greater extent — than previously anticipated. In making this judgement, the Bank of England (BoE) suggested that the economy had very limited spare capacity, with the (annual) trend rate of growth likely to be around 1.5% and the equilibrium unemployment rate now judged to be 4.25%.

The low 'potential' growth rate of the economy continues to suggest that even relatively low levels of growth may be enough to see the central bank tighten monetary policy. The BoE continues to judge that Brexit is likely to have as much of an impact on the supply side of the economy as on the demand side, thus justifying a more hawkish stance with the unemployment rate close to its generational lows.

May now seems the most likely point for the next interest rate hike in the UK. This remains contingent on Brexit transition talks remaining broadly on track and the global economy continuing to grow strongly. Although Brexit discussions remain relatively fluid, should a softer Brexit emerge, longer-dated gilts are likely to come under further pressure, as the potential growth rate for the economy may be judged higher.