Japan may appear less exposed than some other countries to US trade risks but it would still be affected by anti-globalisation measures.
Trump has criticised Japanese currency policy
Trump has made several references on Twitter regarding Japan being a currency manipulator over the last couple of years. The accusation was given a new lease of life in late January when Trump mentioned Japan had "play[ed] the devaluation market", a comment that was quickly rebuffed by Japan's Prime Minister Shinzo Abe.
Such rhetoric from the US president opens up the question as to how exposed Japan is to a more inward-looking US administration, particularly during a time when the Japanese economy is enjoying the benefits of a weak yen.
Trump has already delivered a blow to Japan by deciding to pull out of the Trans-Pacific Partnership (TPP) agreement, so to what extent could things deteriorate further?
Japanese exports to the US have been rising
In 2015, the US represented the largest export market for Japan, accounting for 20% of total exports (or 2.9% of Japanese GDP), a share that has steadily risen over the last five years.

Consequently, Japan runs a consistent trade surplus with the US (0.3%-0.4% of Japanese GDP), a fact that the US Treasury Department is fully aware of and something the Trump government has hinted it would like to reduce.
Putting this trading relationship into context, the chart below plots exports to the US as a percentage of domestic GDP for a number of countries. Aside from the obvious candidates that are considered vulnerable to trade protectionism, namely Mexico and Canada, Japan appears less exposed than many if Trump attempts to reduce the trade deficit in the US.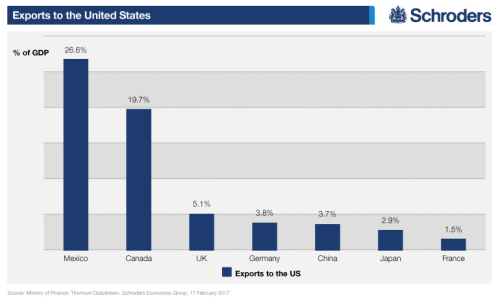 That said, given a sluggish domestic economic backdrop in Japan, less support from its trade position with America would certainly weigh on GDP. The automobile industry would look particularly vulnerable given Japan's long-standing trade surplus with America in the industry.

A slowdown in Chinese trade could hurt Japan
Furthermore, although Japan may be less exposed than many other countries from targeted protectionist measures, we cannot rule out further possible effects through indirect linkages.
Most importantly, the Japanese economy may come under pressure if Trump decides to focus on China, a likely threat given how vocal he has been on Chinese unfair trade practices. After all, China accounts for close to 50% of the US trade deficit in goods (1.9% of US GDP), with the share accounted for by Japan and Mexico a more modest 9% and 8%, respectively.

Given that China is Japan's second largest export market after the US, with exports accounting for 2.5% of GDP, a slowdown in China as a result of protectionist measures from Trump would act as a significant headwind to Japanese growth.

Tensions have eased after Trump-Abe meeting
Abe is fully aware of the risk protectionism poses to Abenomics in Japan and the wider global economy. Earlier this month he moved swiftly and secured a two-day summit with Trump to strengthen US and Japanese economic ties.
More importantly Abe aimed to convince Trump that past actions of the Bank of Japan (BoJ) were not meant to manipulate the currency but were intended to end deflation.
Consensus seems to be that tempers were not frayed between the two world leaders and Abe was able to convince Trump of the BoJ's intentions. The risk of a trade war between the US and Japan may have therefore subsided for now, but given the unpredictable nature of the current US administration, Japan certainly cannot write off the risk of anti-globalisation measures.

Marcus Jennings
Economist