The preferred broad money aggregate here is M2 excluding financial deposits – the latter have fluctuated widely in recent years but have little connection to money spending. Annual growth of this measure was stable at 12.8% in September, more than double a low of 6.3% in June 2015 and the fastest since 2013 – see chart.
Total M2 growth was lower at 11.5%, reflecting a fall in financial deposits over the past 12 months. M2 ex financial deposits has been a superior economic gauge in recent years, signalling the 2014-15 downturn as well as this year's recovery. M2 was misleadingly strong in 2014-15 as financial deposits surged.
Annual M1 growth, meanwhile, remained buoyant at 24.7% in September versus 25.3% in August. As previously discussed, the Chinese M1 definition omits household demand deposits, which are added back here to create "true" M1. Such deposits grew by an annual 16.0% in September, while demand deposits of non-financial enterprises and government organisations rose 28.3%. Annual true M1 growth was 21.7% in September versus 22.1% in August.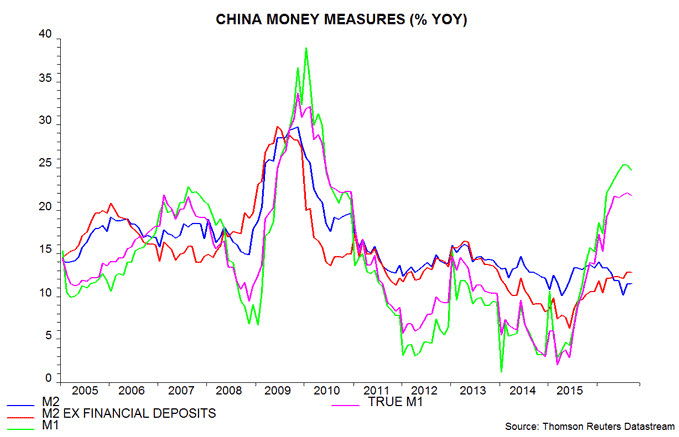 Die Wertentwicklung in der Vergangenheit ist kein zuverlässiger Indikator für die künftige Wertentwicklung. Alle Performance-Angaben beinhalten Erträge und Kapitalgewinne bzw. -verluste, aber keine wiederkehrenden Gebühren oder sonstigen Ausgaben des Fond.
Die Informationen in diesem Artikel stellen keine Anlageberatung dar.