Annual industrial output growth rose from 6.0% in July to 6.3% in August, the fastest since June 2015 excepting March's 6.8%, which was artificially boosted by a New Year timing effect. The August result may have benefited from catch-up production after disruptions caused by bad weather in July, as well as more working days. However, there was an offsetting downward distortion from factory closures around Hangzhou to improve air quality ahead of the recent G20 meeting.
Economic concerns have focused on private-sector investment, which contracted in nominal terms in July compared with a year earlier. Previous posts argued that this weakness reflected a lagged response to falling profits in 2014-15; with profits reviving in early 2016, and money holdings of enterprises rising strongly, a second-half recovery in investment was expected. The annual change rebounded to +2.3% in August – see chart.
Profits are being lifted by rising producer prices, which increased again in August – the fifth gain in the last six months.
Annual growth in retail sales, meanwhile, strengthened from 10.2% in July to 10.6% in August, or 9.6% allowing for consumer goods inflation of 0.9%. Auto sales were particularly strong, rising by an annual 13.1%, probably partly reflecting the approaching (year-end) expiry of tax incentives – sales growth is likely to weaken sharply in early 2017.
The OECD's leading indicator strengthened further in July – see previous post. August monetary data later this week will provide clues about the sustainability of the current upswing beyond early 2017.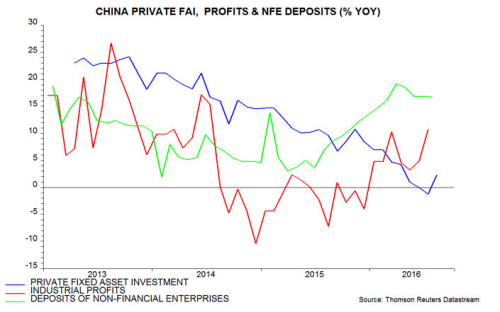 Die Wertentwicklung in der Vergangenheit ist kein zuverlässiger Indikator für die künftige Wertentwicklung. Alle Performance-Angaben beinhalten Erträge und Kapitalgewinne bzw. -verluste, aber keine wiederkehrenden Gebühren oder sonstigen Ausgaben des Fond.
Die Informationen in diesem Artikel stellen keine Anlageberatung dar.