Six-month growth of real narrow money, as measured by non-financial M1 deflated by consumer prices, fell to its lowest level since 2014 in November – see first chart. The decline from a most recent peak in June suggests that economic momentum will moderate from around spring 2018, allowing for a typical nine-month lead.    
Broad money developments give a similar message, with six-month growth of real non-financial M3 also weakening since June. The slowdown in the real money measures reflects both softer nominal monetary expansion and a rebound in six-month consumer price inflation – second chart.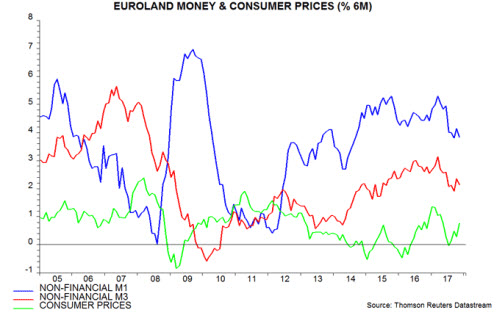 Monetary trends are not signalling economic weakness – real money growth remains solid by historical standards. The consensus forecast of 2.1% GDP growth in 2018, however, may be over-optimistic. The consensus expects GDP to have risen by 2.3% in 2017.
Country data show that real M1 deposit growth has fallen recently in France and to a lesser extent Spain, suggesting that the boost to economic optimism from the election of President Macron is fading, while the Catalonia political crisis is dampening Spanish prospects. Real money growth in German and Italy has been relatively stable – third chart.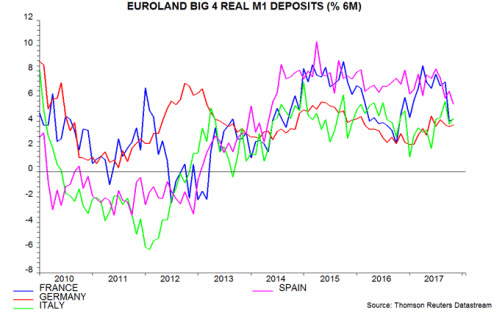 The Citigroup Euroland economic surprise index remains in positive territory but appears to have peaked and has been surpassed by a resurgent US index, as had been suggested by earlier monetary trends – fourth chart. The Euroland index will probably fall further and may turn negative in early 2018, based on recent monetary cooling.