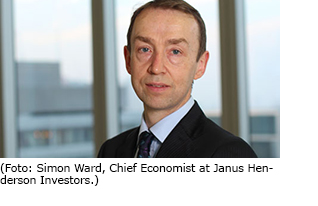 The number of full-time employees rose by a very strong 0.9% in the three months to November, to stand 2.3% higher than a year before. Solid expansion had been suggested by an earlier increase in job vacancies, which climbed further in the three months to December.
The job openings or vacancies rate* of 2.9% is the highest on record in data extending back to 2001.
The CBI quarterly industrial trends survey released this week reported the highest percentages of firms experiencing shortages of general and skilled labour since 2004 and 1974 respectively – see first chart.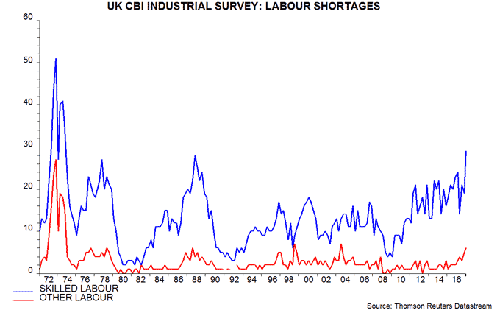 As well as strong labour demand, rising shortages reflect a smaller inflow of workers from the rest of the EU. Annual labour force growth, however, is only slightly below its average in recent years – second chart.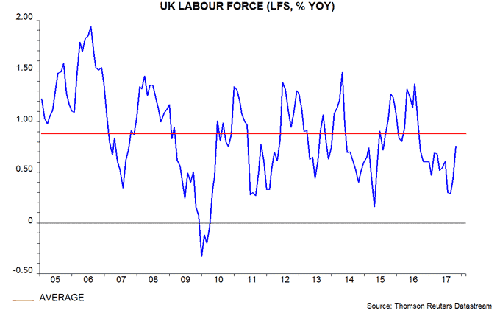 The unemployment rate was stable at 4.3% in the three months to November but a wider measure of underemployment including involuntary part-timers and those inactive but wanting a job fell further, to a new low in data back to 1992 – third chart.
Average weekly regular earnings of private sector employees rose by 2.5% from a year before in November, unchanged from October, but a three-month moving average grew by an annualised 3.5% in the latest three months – fourth chart. The average number of hours worked per week, moreover, has fallen recently, implying a stronger increase in hourly earnings. The earnings numbers continue to understate labour cost expansion because of rapidly-rising pension contributions and the apprenticeship levy.
*Vacancies as a percentage of employees plus vacancies.​