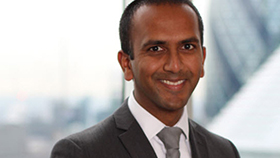 (Foto: Mitul Patel, Head of Interest Rates)
"The Fed announced that it will begin reducing its balance sheet in October, in line with the principles previously announced in June. 
"The dot plot continued to suggest that a rate hike in December was likely, and that the Fed is currently expecting to hike rates 3 times next year. There was one less hike indicated for 2019, while the longer run nominal neutral rate continued to tick down to 2.8%. The dot plot also showed projections for 2020, with the median rate level at 2.9%, suggesting the Fed acknowledges that at some point rates will may move into restrictive territory. 
"Chair Yellen acknowledged that although inflation had been weaker than expected, they continue to believe the weakness to be temporary, while tightening labour markets will begin to impart a more durable inflationary impulse. 
"The market continues to be sceptical that the orthodox economic relationship between inflation and unemployment will prove to be correct, and inflation markets are pricing in a much lower inflation profile than the Fed's projections. 
"Nonetheless, with risky assets taking Fed rate hikes in their stride, much better than many had expected at the beginning of the rate hiking cycle, the Fed may continue to move rates higher, to help build a cushion for future downturns. 
"We should also note that there will be significant turnover on the FOMC and Trump is yet to appoint the next Fed chair. As a result, there remains a risk that the transition into a new Fed is not a smooth one, if newer members of the FOMC do not share the views of the current ones."