​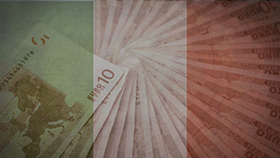 On 4 March 2018 the Italian elections took place, which resulted in a hung parliament with no party gaining a majority. At midday on 5 March, the anti-establishment party, Five Star Movement, had unsurprisingly harnessed the most support with a projected 32.5% of the votes, illustrating there is strong populist backing amongst Italian voters similar to what was seen in the most recent UK and US elections. The left-wing Democratic Party looks set to have achieved 18.7% of the vote, while on the right the Northern League (Lega) received 17.5%, followed by Forza Italia at 14%. All in all, the election result was more populist than expected.   
Italian credit did not really widen in anticipation of the elections. In trading on the morning of 5 March as polls started to appear, Italian government bond yields moved marginally higher and credit spreads widened a little but the overall market reaction has been limited. Our funds were positioned either underweight or neutral Italian risk going into the elections, which was largely a result of our bottom-up security selection and tight valuations rather than an expectation of the outcome of the election. Given that movements in Italian risk have been well contained and Italian political uncertainty is likely to prevail until a coalition government is formed, we are unlikely to favour adding to Italian risk at this point.   
From an overall portfolio beta perspective, our funds were also cautiously positioned for reasons other than politics. Fund flows across markets have weakened; there is growing expectation that the European Central Bank's bond purchasing programmes are likely to end this year, which will remove a less price-sensitive buyer of debt securities from the market; and spreads across most asset classes remain tight offering limited upside.

 While the relative success of the eurosceptic Five Star Movement (which as the biggest party looks set to form the backbone of any government) and Lega means there will be a shift in politics in Italy, which could result in struggles in getting a reform agenda passed, it is unlikely to be existential for the European Union. The Brexit negotiations are revealing the challenging economic realities of potentially losing frictionless access to your nearest trading partners. We would anticipate some horse trading between parties – clearly job creation and dealing with immigration will be high on the agenda for whoever takes power.