The ECB also sound in no hurry to tell the market about its plan for asset purchases post December, although a decision looks most likely to be made at the October meeting. 
Inflation looks likely to remain muted for some time, although the recent improvement in growth in Europe, coupled with a dwindling pool of assets that the ECB can buy, suggest a reduction in asset purchases is still likely next year, though Draghi was keen to stress that changes would be made to the programme if necessary. The recent strengthening in the euro had received "some attention", though the lack of a stronger pushback against euro appreciation by Draghi caused the single currency to strengthen further. The eurozone has been one of the bright spots in 2017, with growth surprising to the upside and political risks receding, leading to strong inflows into European assets.   
While the strengthening in the euro may have further to run, the currency on a trade weighted basis has already strengthened significantly from its cheapest levels. Given, however, that interest rates remain negative and are likely to do so for some time, this may ultimately limit euro strength.  
Euro has rallied but strength may be tamed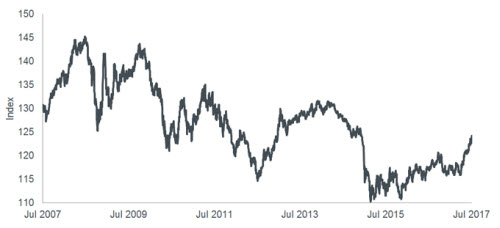 Source: Bloomberg, Deutsche Bank EUR Trade Weighted Spot Index, 20 July 2007 to 21 July 2017