It's been a strong week for risky assets with equity, real estate, credits and commodities all rallying and cyclical stocks outperforming defensives. The strong performance in equity and credit markets might be a late response to a strong earnings season, or it may be related to some weaker earnings and inflation numbers in the US, reducing fears of a more hawkish Fed response.
The week's performance raises hope that the multi-year bull market is not over yet and that risky assets can deliver some further gains in the next few months. This could be triggered by an uptick in economic data following some weakness in previous months. The improvement in our cyclical indicator and economic surprise indicators provide some support for this.
Despite the prospect of some support from stronger economic data, we stick to a relatively cautious stance on risky assets. We maintain a neutral allocation to equity, small overweight real estate and small underweight spreads. There are clearly some counterbalancing factors. The combination of a rising dollar, stronger commodities and the fear of higher US yields can be dangerous, and the scope to break out of current price ranges and move to new highs seems limited. Furthermore, US equity valuations are rich, profit margins are at historically high levels and credit spreads are still historically low, while credit quality is near a record low.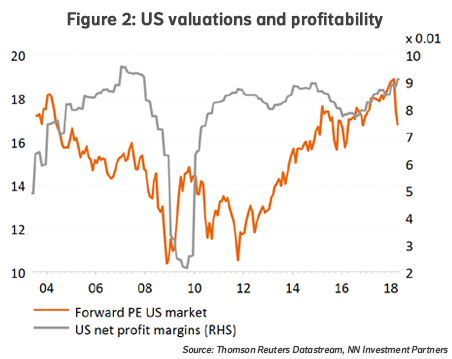 Investors are struggling to judge how the various factors will interact and impact markets. The bull-bear indicator has come down this year from bullish to bearish levels but is hovering in neutral territory now. Big data equity indicators for political risk or emotion show increased uncertainty and point to weaker investor sentiment.