Financial markets started the year in an exciting way. Driven by strong macro and corporate fundamentals, equities soared. The cyclical regions and sectors did especially well. On the other hand, safe treasuries had a more difficult period, also because of central bank speculation. The ECB minutes were a change of tone from previous occasions and some (unfounded) rumours popped up with regard to the BoJ's yield curve control policy. Real estate, which is considered as yield-sensitive, suffered the most as a consequence and is down over 3% in euro terms. The depreciation of the US dollar was another big move and weighed on global benchmarks and on commodities (for euro-based investors).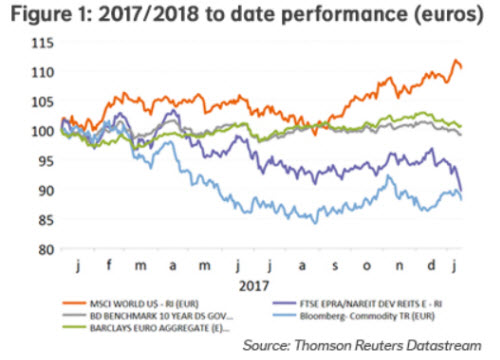 However, we should be careful in extrapolating these moves. First, economic surprises are at a decade high. One should wonder what the next move will be and how risky assets will cope with less strength relative to expectations.

Secondly, investor optimism has jumped during the past two weeks. This was confirmed by the results of the latest BofA monthly investor survey. Cash levels dropped to a five-year low, hedge fund investors' net equity exposure came in at the highest level since 2006, and the net overweight of equities relative to bonds was the highest since 2014. Our own indicators also showed some frothiness. Equities are in overbought territory, CFTC futures positioning is high and ETF flows are negative. The bull/bear ratio came down from multi-year highs but is still well above neutral.

This week we upgraded bunds from a medium underweight to a small underweight. The reasons are technical in nature. Institutional investors have very low duration, the asset class is oversold, flows turned positive and CFTC futures positioning is low. In addition, bund yields rose to the upper bound of the 2017 trading range, which has always resulted in a return to the mean in the following period. We nevertheless maintain a small underweight as we believe that in an environment of accelerating growth and a gradual tightening of monetary policy, yields will move higher over the medium term.

We also keep our overweight in real estate. We think that fundamentals, valuations and positioning do not justify the correction the asset class witnessed over the past weeks. Real estate looks currently oversold.