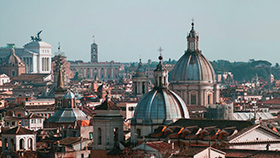 Peripheral spreads have continued to tighten this week, albeit modestly. Against a backdrop of weak (headline and core) inflation confirmed for December, several ECB officials and members of the Governing Council attempted to curb the accelerating appreciation of the euro. Italian bonds have returned 0.43% year-to-date, Spanish bonds 0.56%, Portuguese bonds 0.58% and Irish bonds -0.19%.
Italy
S&P maintained a positive view on the Italian recovery in its 2018 outlook, but warned about the risks of repealing previous structural reforms. The fact that the centre-right wing is in favor of a revision of the 2012 pension reform and advocates a 15 or 20% flat tax could possibly be detrimental for the credit rating of Italy, if these measures were to be implemented. On Sunday, the main parties will reveal the detail of their electoral programmes and also whether they will run in a coalition. On 29 January, the name of the candidate MP in first-past-the-post constituencies will be announced. An important information will be the candidate chosen by the centre-right bloc and especially the formation he belongs: a moderate closer to Berlusconi (Forza Italia) or a more anti-establishment, anti-euro candidate closer to Salviani (Northern League). Another key element to consider is the turnout rate: one-third of the voters in recent polls are uncertain or decided not to vote, which would tend to favor Forza Italia. 

Spain
The non-performing loans (NPL) ratio has continued to decline at a relatively high pace in November to reach its lowest level since January 2012 (8.1%). The private sector keeps paying down their existing debt, with their total debt to GDP ratio on a declining trend. Meanwhile, the flow of new credit to both households and corporations has been rising significantly from low levels tough. The political event this week has been the nomination of the house speaker of the Catalan parliament. Roger Torrent, a pro-independence official, managed to get a majority of votes thanks to three votes coming from MPs in detention, who cast their vote via proxy MPs. The next challenge will be the election of the Premier of the Catalan parliament on 31 January. If no majority emerges, then a new vote will take place on 2 February. In the worst scenario, where no Premier could be elected in the following two months, new regional election will be held on 31 May. Fitch could upgrade Spain to a single-A rating this evening or later on 23 March. 

Robeco Euro Government Bonds 
We have an overweight position in Spanish government bonds and a small underweight position in Italian bonds. We are positive on Spanish fundamentals, while we remain wary of the political risks in Italy. We hold no Irish bonds as their spreads over France do not compensate for the potential risks stemming from Brexit, international tax reform and the volatility inherent to Ireland's size. Currently the fund is 40% invested in peripheral bonds, in line with the index. Year-to-date the fund's absolute return is -0.04%*.

* Robeco Euro Government Bonds, gross of fees, based on Net Asset Value, January 18, 2018. The value of your investments may fluctuate. Past results are no guarantee of future performance.