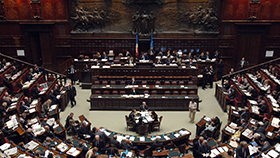 Main market events
With the exception of Greece, peripheral bonds performed relatively well this week. Spreads have tightened amid receding tensions regarding both the Italian elections and the vote of SPD members about the Grand Coalition treaty on Sunday. Furthermore, the recent softening tone of some ECB Governing Council hawks, running for the ECB presidency, may also have benefited the periphery. Italian bonds have returned 0.96% year-to-date, Spanish bonds 1.22%, Portuguese bonds 0.53% and Irish bonds -0.46%.

Spain
The Bank of Spain published this week the credit data for January. Despite rising real estate prices and a strong macro environment, loans have continued to shrink on an annual basis. The credit weakness was especially pronounced in the corporate sphere and to a lesser extent in mortgages business, notwithstanding declining interest rates year on year. Importantly, the decrease in the overall private debt did not prevent Spain from remaining one of the leading economies of the Eurozone. According to the final report, Spanish economy grew by 3.1% in Q4 last year, just slightly lower than over the past two years. Furthermore, manufacturing PMI released this week have continued to increase in February. 

Italy
The economic sentiment indicators this week appear strong in Italy unlike in the other large economies that recorded some deteriorating prints. In particular, business confidence improved in all sub-sectors with construction and services leading the better results. The other positive development released on Thursday has been the 2017 fiscal deficit being at a 10-year low (1.9% of GDP from 2.5% in 2016). On the political front, Berlusconi confirmed that Antonio Tajani, the current president of the European Parliament, will be the centre-right Prime Minister candidate, if their coalition wins Sunday's election. The two main risks for this election are the Northern League overtaking significantly Forza Italia and a better than expected performance of the Five Star movement. The probability attached by the market to a euroskeptic coalition dominated by M5S is about 10%, which means that in the case of a victory of the centre-right bloc, BTP spreads have the potential to rally a bit. 

Robeco Euro Government Bonds 
Ahead of the Italian elections on Sunday, we increased our exposure to 5-year Italian Sovereign bonds against Spain as Spanish bonds in this segment are trading relatively tight. The overweight position in longer dated Spanish bonds remains intact. The fund still holds no Irish bonds as their spreads over France do not compensate for the potential risks stemming from Brexit, international tax reform and the volatility inherent to Ireland's size. Currently the fund is 40% invested in peripheral bonds, a bit above index level. Year-to-date the fund's absolute return is 0.08*.

* Robeco Euro Government Bonds, gross of fees, based on Net Asset Value, 1 March, 2018. The value of your investments may fluctuate. Past results are no guarantee of future performance.